Believe it or not, we are approaching one year of lockdown in San Francisco due to the COVID-19 pandemic. This time last year we were going to the gym, taking spin classes and playing sports with our friends. We have all had to adjust to a new way of life and have found creative ways to take care of our health. Pretty impressive San Francisco! Since people have been forced to stay at home, I've seen a rise in aches and pains from my patients who sit at a desk all day. The many small ways we move- walking to the bus, picking up lunch, standing in a bar at happy hour- are no longer an option. Lower back pain, knee pain, tight neck and shoulder muscles are all exacerbated by this new sedentary life.
This doesn't mean you can't get a great workout and build movement into your day again. Lucky for us, San Francisco, California is in the top 10 U.S. cities for number of public parks- with 220 parks, playgrounds and open spaces! So take a break from hunching over your laptop, put on your walking shoes and go enjoy the trails and scenic views that this beautiful city has to offer.
The Great Walkway: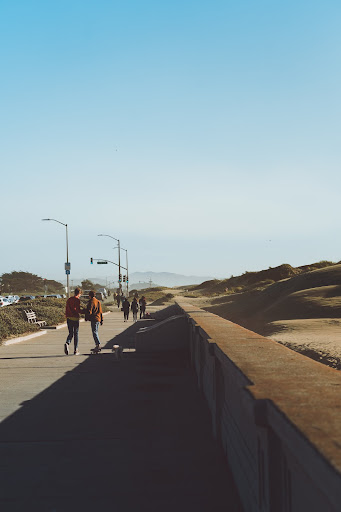 This path only exists because of the COVID-19 pandemic. The Great Highway has always been a scenic drive along the western coast of the peninsula and overlooks Ocean Beach. In March 2020, city officials closed 2 miles of the Great Highway to traffic and opened up the Great Walkway to create more public space. This trail has 3.5 miles of oceanfront views and provides a continuous family-friendly path that passes the San Francisco Zoo and Golden Gate Park. Visit on a weekday or early morning on the weekends to avoid the crowd. This broad path has room for runners, walkers, strollers, cyclists and dogs- just what you need for a full cardio workout. Hop off the path whenever you want a break to sit on the beach or rest in the park.
The Presidio:
Part of the National Park service since 1994, the Presidio is one of my favorite parks. You just can't beat the view of Golden Gate Bridge! Not only that, but the Presidio Trust is currently planting thousands of native marsh and dune plants to attract local wildlife to the area. This park has 24 miles of trails, 8 scenic overlooks and its history as a military fort goes back to 1776. Check out all the historical buildings and learn about where San Francisco began.
To get started, check out the Ecology Trail. As its name suggests, the approximately 1 mile route takes walkers through lush restored grasslands, the largest grove of towering redwoods in the park, and passes through Tennessee Hollow which is a watershed undergoing revitalization by the Presidio Trust. As we approach spring you may see endangered California wildflowers, hummingbirds and butterflies! Finally, take a break or do some strength training and stretching in the large Main Post Lawn.
Staircases:
Looking for a challenge? Get your heart rate up and start sweating by climbing one of San Francisco's urban staircases. There are dozens spread across the city and many have beautiful artwork or reward your efforts with stunning views. The Lyon St. staircase located in Pacific Heights has a breathtaking view of the bay and the Palace of Fine Arts. This staircase offers an intense workout with over 300 stairs from top to bottom. If you are looking for a challenging and satisfying way to do some cardio, as well as strengthen your glutes and quads, this staircase is for you! For an artistic experience, check out the Inner Sunset's 2 for 1 staircases. Two beautiful staircases decorated with thousands of colorful tiles are a short distance away from each other. The Hidden Garden Steps was designed as a delightful tribute to our city's firefighters. The 16th Ave Tiled Staircase nearby has gardens adorning each side of the steps, including a butterfly habitat and a series of succulents.
Closing:
I'm excited just talking about these spectacular adventures right here in San Francisco! But remember that we must continue to take precautions against COVID. San Francisco parks are popular and can be crowded, especially on the weekends and during warm weather. Be sure to follow CDC guidelines, wear a mask while you're walking and stay away from large groups. Try to visit during off hours in the early morning or on weekdays. Trails are shared with walkers, runners, cyclists, dog walkers and children so pay attention to your surroundings. But most importantly, get out there, stretch your legs and enjoy the beautiful outdoors!